RockTape and Kinesiology Taping
From £5
Kinesiology taping can be used for musculoskeletal conditions to decrease pain and improve function. Sometimes taping is included in your Musculoskeletal and Sports Therapy treatment session. The main effects of Kinesiology taping are:
Improved posture by influencing joints back into a neutral position
Opening up joints whose joint space is restricted
Offloading joints and muscles
Stretching muscle and fascia
Lymphatic drainage caused by swelling following injury
Compressing tissues
Influencing a biomechanical kinetic chain
Improve power and reduce time needed to generate peak torque
The tape is applied in a variety of patterns or positions and with differing tensions considering anatomy, physiology and the biomechanics according to the individual's pain and dysfunction, sport or job or performance gains.
SSIC also uses RockTape Kinesiology tape that is engineered to meet the demands of sports, especially ultra sports. It's more adhesive and stronger than regular Kinesiology tape, and does not fail under the demands of sport.
It has 190% elasticity to allow for a fuller and better range of motion. SSIC has relied heavily on the effects of RockTape for the past 3 years of the Brathay 10 Marathons in 10 days challenge held annually in the Lake District. Wearing Kinesiology tape does not mean you are weaker or at risk, it means you are able to go harder and further than your competitors.
SSIC provides taping services from our clinic before matches and sports events or on location pitchside or roadside. For more information about how we can support you or your team at your event, please call 01204 770308.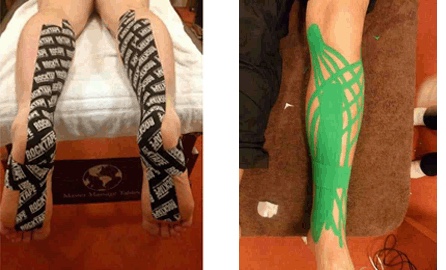 Examples of RockTape and Kinesiology RockTape taping structures.