Client Testimonials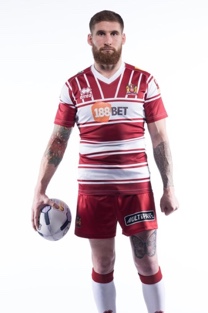 Sam Tomkins
I've known Maria for over 7 years, working alongside her for Wigan Warriors and England Rugby League. After rupturing my Posterior Cruciate Ligament, I had an 8 month recovery and rehab plan which Maria was pivotal to. Her hard work and commitment to get me get back in the field has meant I made a full recovery and have had no problems with it ever since.
Sam Tomkins - Wigan Warriors & England Rugby League player
Sean O' Loughlin - Wigan Warriors Captain and England Rugby League
"I have known Maria for a number of years now and have received treatment from her during my time with both Wigan warriors and England rugby league.
Her work is of the highest quality and her knowledge is second to none. During long seasons the treatment you receive from the medical team is of the upmost importance. Maria provided me with top quality hands on treatment which was hugely beneficial to my on field performance. I would have no hesitation in recommending Maria to anyone seeking a professional and effective service.
Thanks for everything Maria."
Sean O' Loughlin - Wigan Warriors Captain, Great Britain and England Rugby League
Darren
"Over the pasted 3 years I have undergone two operations as a result of exercising, in particular running. Some people would say don't run, give up, is it worth it! I admit those thoughts have not been to far from my own mind and I have considered retiring!! However, training whatever that maybe is fundamental in my life's daily routine.
Since 2012, I began suffering with a hip flexor problem which was hugely impacting on any long runs that I did. Though, through Maria's assistance I was still able to line up at London Marathon but frustratingly I had to stop at 19 miles because of the pain, but also admitting I'd gone off far too fast. I finished the race but realised there was a need for treatment, rehab and some reconditioning.
The next 12 months I was given a programme to strengthen my gluteus, hamstrings, core and hip flexors. I developed a couple of twinges during 2013, plantar fasciitis, tight anterior tibias, yet without fail Maria was there to assist and I was able to stand on the start line at both London and Liverpool Marathons in 2014. Nevertheless it was during these races that I realised there was something more sinister occurring. Maria continued to fix me and be EXTREMELY patient we me during my frustrating periods of not being able to train as I wanted.
January 2015 the sweet, professional and sympathetic therapist was assertive and told me that I had to reduce my running because of the impact and likely damage it was causing my hip. Maria expressed concern that I may have a tear and needed an MRI. Immediately she wrote to my GP requesting a referral to a consultant.
Over the coming few months I had two MRIs and a CT scans which diagnosed a labral tear and a compartment on my femur head. The latter causing the former problem.
I had surgery on the 24th July at Wrightington Hospital. The consultant, Dr Raj-Pura was brilliant. But to say I was only just about to start to embark on the most testing period is an understatement. I was aware that I'd be on crutches for a period but almost 7 weeks I had not bargained on.
I saw Maria within five days of surgery and immediately I was into full blown rehabilitation. 12 weeks of intense exercises that were closely managed and monitored.
It was 16 weeks before I was allowed to run, well for 10 min. However week commencing 16th November I was allowed to feel the ground underneath my feet - the comeback has commenced. Thank you Maria and all at Stansfield SIC. X"
Darren - Runner
Kyle Eastmond - Leicester Tigers
"The treatment I received was vital during the rehab for my groin injury. I can't afford to be injured as a professional sportsman and I feel I was treated with excellent 'hands on' skills, not stuck on a machine. Maria was always extremely professional, reassuring and above all, caring. I would definitely recommend her."
Kyle Eastmond - Professional Rugby Player
Bex Rimmington
"In March 2014, my competition calendar came to an abrupt halt after tearing my stomach muscles, after being passed from pillar to post, by the NHS and other therapists and practioners not happy to treat me I was left feeling completely stuck.
A friend recommended that I should try Stansfield Sports Injury Clinic, so I rang up explained what had happened, and was booked in for an appointment straight away.
I met Maria for the first time and she was completely unfazed by the injury and instantly set to work on getting me back to 'normal' every day activities | and then back to exercise. Despite having no treatment for 6-weeks by the NHS, after just 2-weeks work with Maria I was back on my bike and by June racing - then to top the year off winning my first individual National medal in August.
There is absolutely no way I would have been able to have done this without the help and support of Stansfield Sports Injury Clinic, the professional treatment that I received has been exemplary and would highly recommend to everyone."
Bex Rimmington - Professional Cyclist
Sean St. Ledger Leicester City FC Republic of Ireland
"I can't thank you enough for your help and support. As a professional footballer, we train daily and it is intense. It is crucial to me that I play at my best. Maria's treatment was as intense as the training! But it allowed me to go that bit longer and harder; that is crucial in my game. "
Sean St. Ledger - Professional Football Player
Rick Godding
I initially went to SSIC with an extremely painful shoulder injury that was preventing me from fighting and even training. After a few sessions Maria could see that my injury was serious and that I would need an operation to fix the problem to see any benefit from treatment. She has various contacts so arranged an appointment with a brilliant shoulder specialist at Wrightington Hospital. He then had me rushed through to have an operation as it was vital to my profession.
I now visit SSIC regularly to aid my recovery and keep me fighting. I feel so much stronger in boxing & every day life, and I can't believe the improvement all thanks to the help of Maria and the staff at SSIC. Maria has been absolutely amazing from beginning to end. She has constantly supported me and has always been on hand to help whenever I need it, including going with me to various appointments to liaise with my doctor. I could honestly say I wouldn't be able to throw a single punch let alone be in a position to fight again without the help of SSIC. All of the staff at SSIC are extremely friendly and professional, I have the utmost trust in their knowledge and would highly recommend them to anyone looking for exceptional hands on skills.
Rick Godding - Professional Boxer
First Marathon for Andrew, 41
"Maria has provided me with an excellent standard of assessment, therapy and advice over the last 18 months, enabling me to not only recover from injury but then to remain injury-free and in the best shape possible throughout the training programme leading to my first marathon. Her expertise and guidance in these matters was a significant factor in me achieving my objective and I regard her as an integral part of the preparation for my future marathon goals."
Andrew - Solicitor and Runner
Steve "Iceman" Edwards - Ultra Endurance Athlete
"Every athlete knows that success is not solely attributable to the individual but also to the backup team around them. In my sport of extreme marathon running where I'm regularly racing over 26+ miles including multi day events, it's imperative that I can recover as best as possible during training and between races.
I first met Maria in 2010 at one of the UK's toughest running endurance events, the Brathay 10 marathons in 10 days challenge. Maria played a vital role in keeping all the competing athletes on the road with treatment and advice for injuries sustained each day on the course. Since then, she has continued to deliver an exceptional quality of sports therapy at the same event in both 2011 and 2012, the only years in which every single athlete has completed the full course on each of the 10 days.
On a personal basis, I found Maria to be extremely professional not only with her skills and knowledge but also her approach to treatment which is calm, efficient and above all friendly; all vital attributes for an athlete who needs to feel confident and re-assured. I would therefore have no hesitation in recommending Maria to anybody requiring both an effective and professional service."
Steve Edwards - Ultra Endurance Athlete
Support for the Brathay 10 marathons in 10 days.
Chris Heaton
"In 2010 I entered the Brathay 10 marathons in 10 days. Maria was my main therapist throughout and put my body back together again every day. Exactly the right treatment every time, highly professional, yet individually caring. Maria was so good that I actually got faster throughout the event and set a male veteran 50 age record that still stands. I cannot recommend her highly enough - she enabled me to fulfil the challenge of my life time."
Chris Heaton - Endurance Athlete
Paul Foster
"I recently completed an endurance event running 10 marathons in 10 days. During this time I employed the wonderful services of Maria. Words cannot describe how grateful I am for the amazing treatment I received. Maria was knowledgeable and extremely competent as well as being extremely professional at all times. I really do not think I would have completed the event if it was not for Maria."
Paul Foster - Endurance Athlete
Adrian Shandley
"For any big sporting event or challenge, the difference between success and failure can often be down to the quality of the sports injury advice you receive.
I chose Maria and her team because of her impressive knowledge and experience when I competed in the 2012 10-in-10 challenge (literally 10 marathons in 10 days). I am in no doubt that I could not have completed the 10 marathons without Maria and the expert care she provided. She literally got me "back on the road" when I thought it was going to be impossible. Equally, with Maria's care and advice, my recovery time was much shorter than it would have been after the event."
Adrian Shandley - Endurance Athlete