Sponsored Athletes
Bex Rimmington (Cyclist)
Triathlon Career:
Female winner Bolton Ironman UK Championship 35-39 Category in 2018
World Ironman Championships Kona Qualified 2018
2019-20 Season Winner of 3x 70.3 Half Distance, 13th Place Ironman 70.3 World Championships, 2nd place in her first Elite 70.3 event.
Cycling Career:
2016 1st Team Ras na mBan
2014 1st Duo Normand Mixed Category
2014 3rd National 10-mile Time Trial
2014 3rd National Circuit Championships
2013 1st National Team Time Trial Championships
2013 2nd Best British All Rounder Time Trial
2009 3rd World Para Cycling Championships Road Race - Tandem Pilot
2010 1st World Para Cycling Cup Time Trial - Tandem Pilot
2010 2nd World Para Cycling Cup Road Race - Tandem Pilot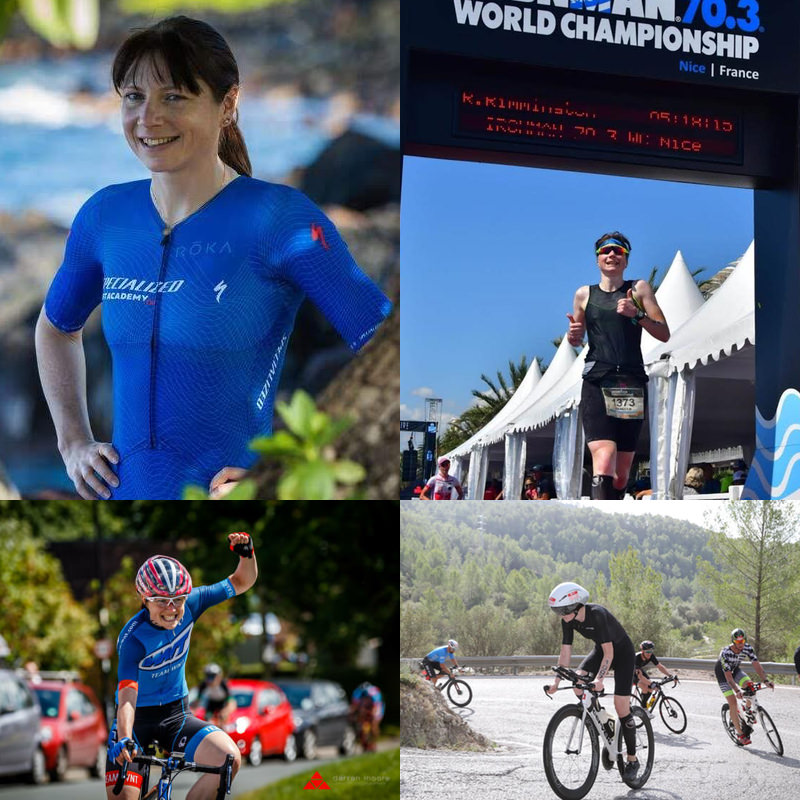 Charlie Burke "Chubby Knuckles" (MMA Amateur Athlete)
Charlie started training MMA 4 years ago and now competes as an amateur MMA fighter. She fights out of One MMA Academy and Next Generation Liverpool, training with some of the best athletes in the UK. Charliehas had four fights so far in her MMA career and looks to fight the very best female amateurs. She is also an active competitor in Brazilian Jiu-jitsu, where she competes at blue belt and has had a lot of success winning numerous medals. Charlie's goal for the next couple of years is to trial for the England Squad, get more amateur fights (another 6 or more) then start her professional career.
Paul (Grey Beard) Higginbottom
Paul #greybeard is the wise one of the group, always on hand to settle an argument over the best way to train or the right amount to eat. Pauls is also new to road racing this year. He has completed many Triathlons including the Bolton Ironman and is a very good TT rider. Paul gained his Cat 3 licences with minimum effort and we expect Paul to excel when races go uphill.
Adam (The Shark) Westwell
Before this season Adam raced mainly TT's and under the tuition from the team's coach (Transition Cycle Coaching) he has taken minutes off his PB this season as well as collecting points in various criteriums and road races. Adam is now known as a bit of a shark within the team. He thinks nothing of trying (whilst not being up for it...) to snatch a team record or make a bit of money on some kind of deal.
Andy (The Boy) Hathaway
Andy is new to the team for next year. Nicknamed 'The Boy' because of his Junior status. The team will be hoping to develop him into one of the best local TT riders, if not Nationally. Andy is currently at college studying sports science and will also begin to be coached by Jody from NeoPro Performance Coaching, one of the best coaches for young talent.
Chris (Bully) Bullock
New to bike racing this year. Chris had a strong start in the early parts of the season and after having a few months off to enjoy his 'other hobby' (renovating houses) we are hoping he will finish the season off even stronger. Chris is not frightened to open his mouth and loves to Bully his way through to get to the front of a bunch.
Aaron (Ebay) Denver
Now in his 2nd year as a senior, Aaron retained his Category 2 licences and was the team's highest points scorer this year. As well as racing on the road Aaron races the track in the winter months to prepare for the road season. Aaron loves a deal on ebay especially the finest that China has to offer.
Lee (Box Jump) Hill
Owner of BodyTorq Fitness and a Corporal in the British Army. Lee loves his fitness, He thinks nothing of joining 3 class back to back at his gym just for the fun of it or knocking out 100 box jumps when he has a spare 5 minutes. Lee is a strong Cat 3 rider and is on the verge of gaining his Cat 2, hopefully in the final race of the season.
John (JR) Ross
JR joined the team late on this season. JR had a few good placing this season and we will be hoping that he carries that on into next season. John is also a very accomplished hide and seek player having won many World Championships in that sport.
Nick (IronMan) Mason
A Warrant Officer in the British Army, You might of heard him mentioned that he completed the Bolton Ironman this year. Nick's dedicated his year to training for the Ironman and rumour has it that he is set to compete again next year.
Andy (Fabian Bathrez) Harwood
After a couple of years trying Andy gained his Cat 2 license this year. With some good placings in several road races and Crits Andy was hot on the heels of Aaron for the title of Highest Points scorer.
Pete (Training) Hollis
Pete 'i don't do training' Hollis is a seasoned racer. Starting the year as a Cat 2 after some very good wins in previous years, Pete loves a Crit race and is very strong in a bunch finish. Pete also loves training...
---
Rick Godding (Boxer)
Rick is a Super Welterweight Boxer who has boxing since he was aged 8 years old. He has had 60+ amateur contests. His first fight was at the age of 11, which he won and received Boxer of the night.
Rick went on to become North West champion 3 times and Schoolboy finalist. Rick then went on and become N.A.B.C National Champion. Rick was picked to box for England in the Four Nations Championships and won a silver medal. Following this, Rick was then picked to Box in the European Games and lost to a Boxer who went on and won the competition.
Rick joined the Army and won the Army Boxing Championships, he was then picked for the Army team and Boxed for them for 2 years before leaving and turning professional. Rick now has had 25 professional fights with only 1 loss and 1 draw. Early next year Rick will be fighting for the English title then onwards to bigger things. Ultimately Rick's aim is to be British Champion in 2017.
---
BodyTORQ Racing
The team was set up by Lee Hill, the owner of the well know BodyTorq Gym in Westhoughton and Andrew Harwood, who really is the man in the know. The team was initially set up with 8 riders being like-minded individuals who were a mixture of seasoned racers and race novices.
Over the course of the teams first year of competing, the team have established themselves in the top 12 ranked teams regionally, with a couple of races yet to go.
The team has recruited 2 riders for next year's racing, which will see them pushing for a top 5 finish regionally and a good number of wins.